*You can earn up to 6 entries in this giveaway. Read below for details*
Today author Julie Lessman is telling us about her new book,
A Hope Undaunted
(Winds of Change series #1, September 2010). She has offered an autographed copy of her book to one lucky commenter. She will also be stopping by throughout the week to answer
your
questions! So if you have anything you want to ask her, you can include it in your comment for entering the contest. If you are only leaving a question in the comment and not entering the giveaway please say so.
Welcome, Julie! Tell us a little about yourself.
I'm a high-energy baby boomer married to a man who makes me feel like I'm living my own personal romance novel, and we have two wonderful kids and a daughter-in-law. Out of a family of thirteen, I was the drama queen and the one enamored with books and movies. In fact, I started writing my debut novel A Passion Most Pure when I was twelve years old after reading Gone With the Wind. But … it wasn't until almost forty years later that God breathed new life into that early attempt and inspired me to finish my childhood novel of passion—only this time the "passion" would be for Him!
Tell us about your salvation experience.
In my debut novel A Passion Most Pure, the heroine Faith O'Connor has a spiritual mentor by the name of Mrs. Gerson, who I actually modeled after my own spiritual mentor and dear friend,
Joy Bollinger
. Let me tell you—this poor woman had her hands full! You see, I was a twenty-three-year-old, mini-skirted, hardnosed agnostic from a devout but dysfunctional Catholic family of thirteen kids. I was so angry at God that I actually wanted to burn Gideon Bibles in hotel rooms. According to the world's standards, I had everything going for me—a hunky boyfriend with a Corvette and a boat, a great job, my own apartment when other friends still lived at home, and I was acing an advanced writing course at Washington U., a prestigious college in St. Louis. But I wasn't happy. I felt like Peggy Lee singing, "Is that all there is?"
Then one day, this annoying gal named Joy approached me at work. She had a lesser job than me, was divorced with a kid and no boyfriend in sight. I hated her because she came in humming every day, happy as a lark while I was utterly miserable. One day when she and I were alone, I looked up from my typewriter and said, "Just what in the heck (except my language was a bit saltier back then) makes you so happy all the time?" She said, "I've been praying you would ask." Oh, no, a Jesus freak, I thought to myself, but I found myself going to lunch with her, badgering her with questions and accusations. I don't remember now if it was weeks or months, but either way, I met Jesus Christ through the remarkable patience of a God-sent angel by the name of Joy—pretty appropriate name, eh?
Joy spent two years of intensive one-on-one inner healing with me, teaching me the Word, praying with me, showing me God's love. Since then, my life has been a journey of "joy," because EVERYTHING with Jesus Christ at the center IS pure joy—especially romance! So you might say my books are my love letters to a God whose love took me from the dark into His glorious light, and I hope and pray it brings Him the glory He so richly deserves.
Are you:
A spontaneous writer or a scheduled writer?
Unfortunately, "spontaneous," which means I am driven by emotion and passion in my writing, which is certainly good if you're looking to write a passionate story, but not so good if you're trying to make a living at it!
You see, when my emotions are low or the passion near-empty (which happens when I am tired, too busy or a little blue), not much writing gets done. If you're trying to make a name for yourself as an author, it's better to be a disciplined writing machine like my very good friends, Mary Connealy and Ruth Logan Herne, who can write a new book every two months, it seems, while I am lucky to eke one out every nine months. I know I can write fast when I want to because I wrote A Passion Redeemed (almost 500 pages) in two months while working a part-time job, but that's not the norm for me, at least not lately!
Organized or completely chaotic?
How about a little bit of both? I have files for everything and a method to my organizational madness, but when I get REALLY busy like now with the launch of a new book and series, well, we're talking stacks of books to read/review, lots of paper clutter and general mayhem.
How do you handle disasters/BIG problems? Do you have a funny or interesting story showcasing how you handle them?
Honestly? For me, it's hard. I am such a wired individual, that I can go tilt pretty easily. That's when I RUN … not walk … to the throne of God for true perspective.
Which is what I did one Christmas when I was engaged to my husband and he gave me a watch, which I absolutely hated! Now, it wasn't his fault because God knows I am one of the most particular people on the planet when it comes to watches—they have to be digital, waterproof, have a day and date window, a second hand, have both silver and gold metal on it so I can wear it with either gold or silver jewelry, and a stretch band skinny enough to fit my wrist. Yeah, you get the picture—NOT easy to find, especially with numbers big enough for someone with poor vision to see.
So I faked it, of course, thanking my husband and telling him how pretty it was because he was just so darn proud of his gift (and it was pretty, of course, just not what I wanted!!). But I didn't "fake it" with God, oh no!! I went straight to His throne in prayer and BEGGED Him to help me love this watch. I even went so far as to write the prayer request on a piece of paper and put it in my Bible so I could pray it every day. Which was fine … until my husband used my Bible a few years later and found the note.
"You don't like your watch??" he confronted me with hurt in his eyes.
"What are you talking about?" I asked, somewhat confused.
He held up the note. "You told God you hated it in this prayer note I found in your Bible."
Gulp … oh-oh … BUSTED!!! So I gave the love of my life my brightest smile and a quick kiss on the lips and said, "Oh, that was then, babe, but I love it now, really!"
And you know what? I did!! :)
In your opinion, what is your best trait? What is your worst?
Best trait? My passion for God and the love for others that has come out of it. Worst trait? A bad temper and beating myself up mentally.
Tell us something surprising about yourself that readers may not know.
I used to chase this one boy named Johnny Huels into the coatroom in kindergarten and kiss him. And then in 3rd grade, he moved right next door to me, and everybody in the neighborhood teased him about me being his girlfriend (since I blabbed that I used to kiss him). So his older brother and my older sister baked a cake and invited all the kids in the neighborhood to our tennis court for a … wedding!! (My dad was an eye surgeon, so we were well-to-do even with 13 kids, and yes, we had a tennis court and HUGE house with six bedrooms.) Poor Johnny never lived it down and I just found out a while back that he ended up becoming a priest! Glad I could help with the vocation. :)
If you compared your writing style to any other Christian Fiction author, who would it be? Also, how would you rate the romance in your books?
Well, my agent and editor tell me that there really isn't anyone in the Christian market writing what I'm writing—which is family-saga romance (with separate sub-stories for other family members) infused with more romantic passion than the norm in CBA romance. But as far as writers whose style compares to mine, I think I would say Tamera Alexander and Laura Frantz as far as literary style, and then MaryLu Tyndall, Ruth Axtell Morren, Michelle Sutton and Deeanne Gist as far as romantic passion. And I would classify my books more as PG because my romantic scenes (of which there are many in each book) are pretty intense and passionate, but always according to God's precepts and ALWAYS to drive those precepts home.
What are you working on now or going to write next?
I am currently working on A Trust Restored (working title), which is the 3rd book in the "Winds of Change" series, a trilogy that continues the O'Connor saga from the first series, "The Daughters of Boston." Book 1 A Hope Undaunted just released this month and is about the fourth O'Connor daughter Katie. This book was a lot of fun to write because Katie is a pistol who comes of age in the Roaring Twenties, right before The Great Depression.
Books 2 and 3 will be about the O'Connor brothers, Sean (and guess who … Emma, Charity's scarred friend from book 2!!), and then Steven, all during the exciting era of speakeasies, dance marathons, gangsters, G-men and era criminals like Bonnie & Clyde and John Dillenger. Steven will be a tall, brooding G-man-type modeled after Elliot Ness … you know, a la Robert Stack from the Untouchables? I'm very excited because all three plots are very involved, include detailed sub-stories for some of the other character couples and enough plot surprises that I hope and pray will blow readers away!
As far as what I plan to write next, I'm hoping to write a prequel about Marcy and Patrick O'Connor before they were married as well as a new trilogy entitled "The Cousins McClare," a poor-man, rich-man scenario among three cousins amid the Irish-political landscape of 1920s San Francisco, prohibition and the Barbary Coast. Think Little Women meets Dynasty." And for those of you too young to remember the TV show Dynasty, think family wealth and poverty in a political setting.
How can readers get in contact with you?
I LOVE to hear from readers, so they can contact me through my Web site at www.julielessman.com, either by sending an e-mail via my site or by signing up for my newsletter at http://www.julielessman.com/sign-up-for-newsletter/. My newsletter is chock-full of fun info on my books and there's always a contest featuring signed book giveaways. Also, I have a cool feature on my website called "Journal Jots" (http://www.julielessman.com/journal-jots/), which is a very laid-back, almost-daily journal to my reader friends that would give your readers an idea as to my relaxed style of writing. Then finally, I can be found daily at The Seekers blog (http://seekerville.blogspot.com/), a group blog devoted to encouraging and helping aspiring writers on the road to publication.
Book blurb:
What happens when the boy she loved to hate ...
becomes the man she hates to love?
The 1920s are drawing to a close, and feisty Katie O'Connor is the epitome of the new woman—smart and sassy with goals for her future that include the perfect husband and a challenging career in law. Her boyfriend Jack fits all of her criteria for a husband—smart, good-looking, well-connected, wealthy … and eating out of her hand. But when she is forced to spend the summer of 1929 with Cluny McGee, the bane of her childhood existence, Katie comes face to face with a choice. Will she follow her well-laid plans to marry Jack? Or will she fall for the man she swore to despise forever?
Who would you pick to play the lead roles if this book was made into a movie?
For the heroine Katie O'Connor, think Reese Witherspoon with an attitude.
Katie is eighteen years old going on thirty with a sassy attitude WAY taller than she. Five foot two, eyes of blue, Katie has a stylish blond Dutch-boy bob and can eat whatever she wants and still fit into the rail-thin styles of the Roaring 20s, which annoys her friends to no end. With her biting wit and cool air, Katie's petite size is no hindrance in keeping everyone on their toes … especially the pest from her past, Cluny McGee.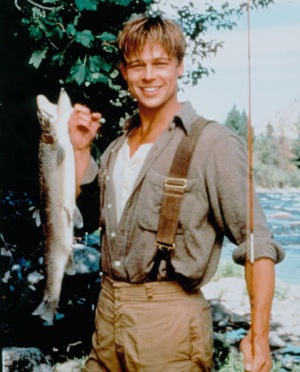 For Cluny McGee, imagine a younger, toe-head Brad Pitt. From street orphan to gang thug to lawyer, Cluny McGee exudes charm and charisma from every pore. With a muscular frame of six-foot-three, clear blue eyes that can pierce right through and a teasing, almost cocky grin, Cluny is a natural athlete who does not like to lose. He spends endless hours playing sports with the kids in the streets, garnering a year-round tan that hides most of his freckles and bleaches his hair to white blond in the summer.
Do you have a link to a place to read the first chapter or an excerpt of this book?
Sure, people can read the first chapter at ACFW's Fiction Finder site at
http://www.fictionfinder.com/book/detail/948
.
Is there anything you would like to add, or tell your readers?
Just the message of my book, A Hope Undaunted, which is that God IS "a hope undaunted" incarnate, and what I mean by that is that He IS the "God of Hope" according to Romans 15:13: "Now may the God of hope fill you with all joy and peace in believing, so that you will abound in hope by the power of the Holy Spirit."
Now I ask you, if God Himself is the "God of Hope," then don't you think that means He wants to fill us—his children, the "apples of His eye"—to overflowing with hope as well? Hope in Him and the fact that He loves us and has a plan to bless us in our lives? Well, that's what my heroine Katie O'Connor discovers in A Hope Undaunted, as does her family at the onset of the Great Depression, and it's my deepest hope and prayer that in the telling, it's also a message my readers will discover too.
~~~~~
*This giveaway is open to everyone!!!*
Okay readers, here is your chance to win an autographed copy of A Hope Undaunted!
TO ENTER:
*Leave a comment with your name and email address (so I can contact you if you win). The comment is mandatory. You will not be entered unless you leave a comment AND your email address.
*If you leave a comment you will be entered unless you specify that you would not like to be entered.
*Here are the ways to get entries:
(First entry) The mandatory comment saying you would like to be entered with your email address.
+1 Become one of my followers OR subscribe to my blog by email.
Read and leave a comment on one or more of my recent book reviews.
+2
The Vigilante's Bride
+2
Teen People of the Bible
**You can earn a total of 6 entries if you do all of the above entry options. Make sure to tell me in your entry comment on this post which of the things you did to get extra entries.**
*The contest will run from today (October 8) until 6:00 CST on Thursday (October 14). I will announce the winner that night. The winner is always randomly drawn. I will contact the winner either directly after choosing him/her or on Friday the 15th, and then that person will have one week to reply. If the winner doesn't reply within that time period, I will pick a new winner.
Good luck! Thanks for visiting.